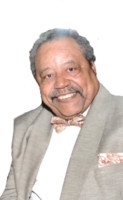 William Q. Frazier, Jr.
William Quinn Frazier, Jr.
He is loved by many and this is true
He is Honorable, Intelligent and Funny too, He is Big Hearted and full of fun,
Ask him to do something ~ and if it is in his will ~ it will be done.
These are some of the words to describe our beloved William Quinn Frazier, Jr.. an ordinary man who lived an ordinary life and left a legacy of faith, family, character and love. This is his story.
In 1943, Franklin D. Roosevelt was president in the United States. In November of that same year, the US Marines landed in Bougainville in the Solomon Islands, Territory of New Guinea, and the Salisbury-Ocean City: Wicomico Regional Airport was first opened ~ our beloved William Quinn Frazier, Jr was born.
William Quinn Frazier Jr. was the second child, born to the late William Quinn Frazier Sr. and Gladys Jeannette Long Frazier on November 19, 1943 at 5:30pm in Salisbury, Maryland. He was a lovable and caring man who would make an impression on many throughout his lifetime. Billy was raised in a God fearing home with a family who laid the foundation that would carry him throughout his life's journey.
While still a baby, his family with his sister Doris, who was 9 years old, moved to Philadelphia. He spent his early childhood in North Philadelphia on Camac Street. Billy was educated in the Philadelphia Public School system and went to Paul Lawrence Dunbar for his early school years, and graduated from Benjamin Franklin High School in 1962. Throughout his school years he was an avid sportsman. He excelled at football, and in 1961 received a Varsity Football Letter. He was often recognized as one of the best in the County and the State.
One week after graduation in February 1962, he enlisted into the U.S Marine Corps at Quantico, VA with the rank of Private. He often said, he was tricked into joining. He was supposed to enlist with a friend. They were to meet at the enlistment office but he never showed up. Billy received training as an auto engine accessories & clutches specialist. He worked in Motor Transport as an automobile mechanic.
John F. Kennedy was president in 1962, and the United States was involved with the Cuban Missile Crisis. The U.S established a naval blockade in Cuba, and on October 22 to prevent missiles from reaching Cuba, Billy spent nine weeks on an aircraft carrier, on a ship in the blockade watching flying fish. The blockage was finally lifted on November 21, 1962. He received several awards including the metal for good conduct, the Armed Forces Expeditionary Medal and the National Defense Service award. He was honorably discharged in 1968 after serving 4 years Active Service and 2 years in the Marine Reserves.
Billy, also known as, Old Man, Rose', and the Gypsy, loved playing football ~ that was his favorite activity. In 1968, he joined the Oakland Cougars semi pro football team. He played the tight end position and in 1969 the team won the division championship. He played with the team until 1976. He also played basketball with a team at the Armory on Olney Ave.
In 1972 he met his beloved wife Yvonne Garrison. while he was recuperating from a basketball injury, at the Armory. They were a couple for 7 years. Then on September 29, 1979 he married his friend, the one he laughed with, lived for, and dreamed of with love. The wedding was performed by the late Bishop Ozro Thurston Jones Jr. at Holy Temple Church of God in Christ.
After discharge from the Marines in 1968, Billy worked at several different jobs, including Yale & Town and then Exide Battery for 8 years. Although he worked at night, in 1973, he enrolled into the electrician day program at the Opportunities Industrial Center (OIC). He graduated with a certification in 1975. When the Exide Battery Company moved in 1977, the union had connections with SEPTA and many of the employees were hired by SEPTA. Billy was employed there as a Subway Surface Trolley Operator for 2 years. Because he was trained as an electrician, he later went to the maintenance department and became and Overhead Maintainer, which did the overhead electrical work for the Subway Surface and the Trackless Trolley lines. In 2006 he retired from SEPTA after 25 years as an Electrician and Overhead maintainer.
In 1997, Billy pledged to become a member of the order of the Masonic Lodge ~ Lights of Elmwood Lodge #45. In 1998 Billy and nine brothers were raised in 1998. He served faithfully as Trustee & Chairman of the Building Committee. He was responsible for improvement projects for the Masonic Lodge and repairs. He looked forward to going to North Carolina for the raisings to meet newly installed brothers. He truly loved his mason brothers and was an inspiration to the incoming brothers.
Billy cherished his relationship with the Lord and was a dedicated and faithful member of Holy Temple Church of COGIC for 40 years. He was a member of the Male Chorus as a tenor and sang faithfully every second Sunday. He was an active member of the Men's Fellowship and was the Men's Day Co- Chairperson for two years. He love attending Sunday School & Bible Study. especially when it was held by Sister Sheila. It wasn't unusual to see him with an apron when he was serving on the buffet line with the Sons & Daughters. Whenever the Youth Department had their annual cookouts he was always seen doing what he loved best, grilling. He also assisted in the repairs of churches Real Estate properties.
Billy was a favorite customer for the many bake sales held in the church. He loved sweet potato pie, especially if it was made by Patsy Deshiell who he called "Sweet potato Patsy". Every year he brought a case of the Girl Scout Shortbread cookies. He still has one box left, and the Cook Book committee always put Oatmeal cookies aside, because they knew he would be asking for them. Due to his love of cookies, he was affectionally called the "Cookie Monster" by the First Lady, Mother June Hargrove.
Anyone who knew Billy knew he loved football, traveling and grilling his famous ribs and giving his niece and nephews field chicken AKA "Rabbit" during Christmas dinner. He was an avid Eagles fan and was over joyed when they finally won the Super Bowl in 2017.
Billy loved to travel, with his wife or his friends which he called "The Crew", -Wink, Chucky Burke, which is what he called him, instead of Nut like everyone else, Lee, Charlie, Rudy, (Ballsie, Skip & Ron-deceased) on the many road trips. They would rent and RV and hit the road, for Canada, Atlanta, Maryland, Lousiana, and they even drove to Yellow Stone Park. Can you imagine six men on a cruise by themselves. You know they were an item. He traveled extensively around the world visiting countries on the continents of Africa (Egypt, Kenya, Senegal and Morocco) Europe (London, Paris, Italy, Greece, and Turkey & Amsterdam), North America (Alaska), South America (Cuba &Panama), Australia and just about every Caribbean Islands.
He leaves to cherish his memories, his wife of 40 years Yvonne Audrey, two daughters Crystal & Quintina, and sons, Stefon, Akie, Quinton & Keith (Robin) & Kwame. One sister Doris Fuller, who he loved dearly and spoke to daily. Two Sisters-in-Law, Marcella Edmonds (Alfred), and Kathfy Garrison, Three Brothers-in-Law Tyrone Garrison (Shirley), Ronald, and Anthony Garrison, seven grandchildren, two great-grandchildren, special nieces, Lynn, Dana, & Shirley and nephews, Vincent, Dale, Douglas, Johnnie, Kyle, Aaron, Eric, and Dallas and a host of great-nieces and nephews, cousins and other family & Goo Gobs of friends.