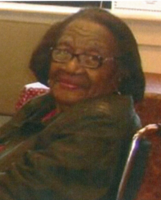 Cathelene Smith
Obituary
Cathelene (Cat) Dockery, Caldwell, Smith, born to Goldie and Samuel Dockery in Concord, North Carolina on September 14, 1925.
She and her sister Thelma (deceased) grew up and attended Cabarrus County Public Schools in NC.
Cathelene married Mack Caldwell, then moved to Philadelphia, PA. to this union two sons were born, Richard and Mack, Jr., both deceased.
Cathelene provided farm transportation for several years. In 1958 she gave birth to Diana. She returned from Boston and moved to Camden, New Jersey. She joined Evergreen Baptist Church in Palmyra, NJ, forming the Nurses Unit and was President for several years. She continued to be a faithful member and was financially generous.
After her move to Camden, she married Calvin Smith and together they owned and operated "bingo busses" far and near. She was known as "Bingo Lady".
When Cat's health started to fail, she moved in with her grandson and daughter until her passing.
She peacefully passed on August 4, 2019 at Barclay Health Care Center.
She leaves to mourn, daughter, Diana of Camden, NJ; a loving and faithful grandson, Shawn of Camden, NJ; and a loving great grandson, DeShon, also of Camden, NJ. Along with one niece, Lena Birkhead of Chesilhurst, NJ and a host of relatives and friends.