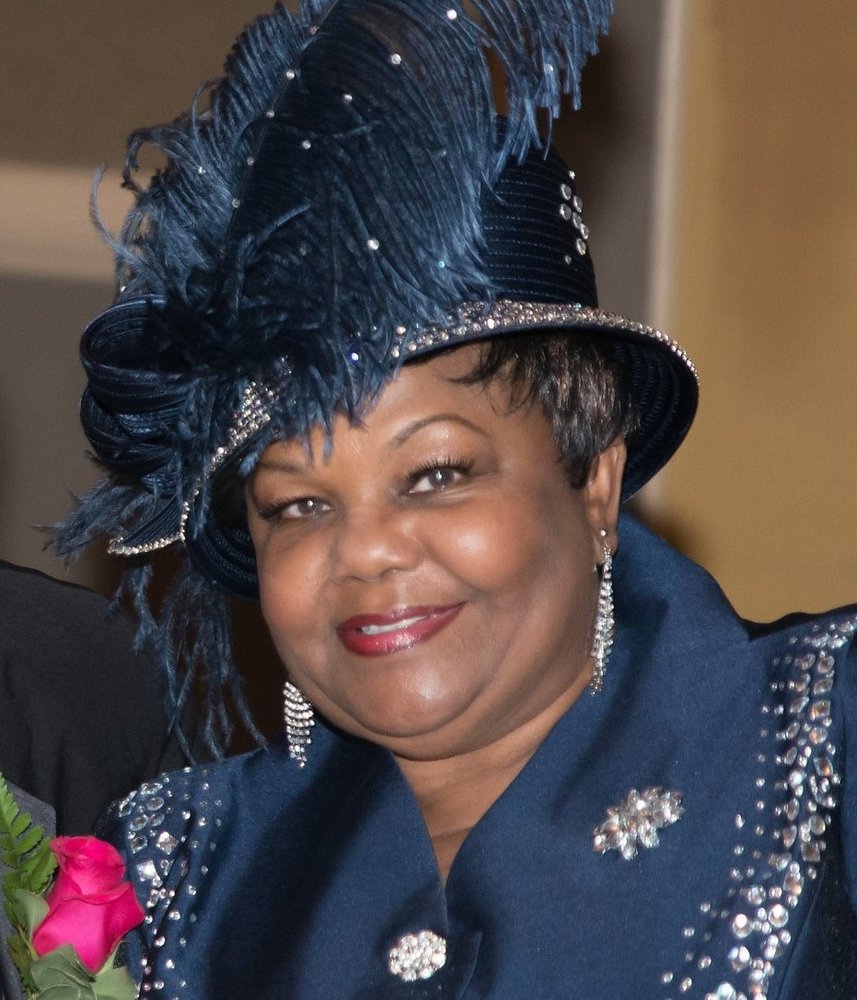 Obituary of Rev Dr. Shirley M Gordon
Shirley Marie Gordon née McCullough – Woman of God, wife, mother, grandmother, grand dogmother, great grandmother, seamstress, designer, entrepreneur, author, lover of laughter, lover of movies, gift from God. The sun rose for Shirley Marie McCullough on Saturday, April 26, 1947, in Clarendon, Arkansas. Born to Elbert and Addie McCullough, from her early years she exhibited a true love for God. Her father was a pastor and entrepreneur, and her mother was an anointed missionary and the walking embodiment of Proverbs 31. Both these remarkable people sowed qualities into her, which shaped and informed the person she became. One of Shirley's favorite scriptures was Philippians 4:13 – "I can do all things through Christ which strengthens me". Not only was this was one of her favorite scriptures, it was her mantra. It informed her life and was the construct of her livelihood. Everything she did; everything she was; everything she attempted; everything to which she aspired; was begun, and built on the foundation of this powerful scripture. Shirley – Woman of God. From a young age, she found great joy in accompanying her mother to Bible study and revival meetings. In these meetings, she actively sought to know Christ. In these meetings she sought to establish a true relationship with her Heavenly Father. And it was in one of these meetings, as a teenager, that she found Him (Jeremiah 29:13). Upon finding Christ and experiencing the infilling of the Holy Ghost, she began a beautiful journey with Him that would span over 60 years, lead countless people to Christ, assist scores more to an enhanced relationship with Father God, and provide healing for innumerable broken and hopeless souls. She was anointed. Shirley – Wife. Not only did God find Shirley in her teenage years, He blessed Kenneth J. Gordon to find her, as well. And it was a good thing (Proverbs 18:22). While plucking a chicken, in suit pants, a vest with no shirt, and long toed shoes, Kenneth saw, across the dirt road in Pocola, Oklahoma, the woman he would make his wife and with whom he would share almost 57 years of his life. He was 17. She was 15. They married two years later - a blessed union that would survive the test of time. She often said, "I earned a Ph.D. in Ken Gordon, Sr.". There was no truer saying! Shirley knew Ken Gordon, Sr. She made it her life's mission to know him; to understand him; to please him; to love him. She proudly called herself Mrs. Kenneth Gordon. She often spoke about doing whatever was necessary to keep her husband happy, including making sure she "looked good and smelled good around the house". She freely shared wisdom with any who wished to keep the flame burning bright in their marriage. She was loving. Shirley – Mother. Shirley was as an amazing and committed mother, as she was a wife. As a result of her singular marriage came three children – Von, Kenneth Jr., and Gaylene. From these three children came four grandchildren - Valeree, VeNeis, Kenneth III, and Cidnee. From these four grandchildren, thus far, came one great grandchild - Khaliyah. Additionally, emanating from these households, Poncho and Cinco became part of the family and made her a proud Grand dogmother. She sowed into her children and grandchildren, a love of God, a love of family, a love of laughter, and a love of life. She was maternal. Shirley – Business Mogul. Shirley was an excellent seamstress and designer. She was creative and expressive. From her meager beginnings as a seamstress at Rancho Cleaners in Rialto, CA to opening her own tailoring shop in Kansas City, KS (Shirley's Tailors) to venturing into the world of direct sales, she was a gifted business sales executive and an inspiring leader. This journey eventually led to the establishment of her own company, Fashions by Eleganteè. This fashion juggernaut employed myriad people throughout the United States and the Caribbean Islands and was the only international African-American owned direct sales fashion company of its kind. To this day, no such company exists. She was a trailblazer. Shirley – Author. Shirley was an exceptional writer and storyteller. She would sit for hours writing thoughts, reflections, prayers, and recording past experiences. This love of writing and desire to minister to those in dark places, prompted her to write two award-winning books. These books chronicled the lives of the eponymous First Lady. The books – "S.E.C.R.E.T.S. of the FIRST LADIES", volumes I & II, like Shirley, are insightful, transparent, and avant-garde. She was bohemian. Shirley – Lover of Life. One thing which stood out about Shirley was her laugh. She loved to laugh. It was rare to speak to her without laughing or without her making you laugh. She loved to laugh. Her laugh was deep, rich, and real. She loved to laugh. She loved entertainment. The movies she avidly watched informed her sagacity. Throughout her life, as did the great poet Dante, she believed art imitated life. Thus, she looked to art to inform many of her insights and opinions. Whether through her travels, her interactions, or her entertainment, she loved life and loved to laugh. She also loved to play cards and was highly competitive. While she was skilled in Pinochle and Bid Whist, her favorite was Spades. According to her, no one could beat her and her lifelong partner, especially not in their house! She was convivial. Shirley – The Gift. Shirley was loved dearly by her husband. She was loved dearly by her children and grandchildren. She was loved dearly by her sisters and brothers. She was loved dearly by her family and friends. The beauty of her relationships were their reciprocity. Not only did she sow deeply into others, she also reaped generously of their adoration and respect. Ken, who proudly called himself Mr. Shirley Gordon, cherished her and was a protector, provider, and priest throughout their entire marriage. Her children and grandchildren called her blessed (Proverbs 31:28). All who were fortunate to know her, were warmed by the light of Christ which engulfed her. She was treasured. Shirley Marie Gordon did all she did through Christ who strengthened her, and she did it in a prodigious way that only she could. Having excelled at fulfilling her purpose, she was returned to her sender on June 8, 2021. While she is no longer with us, in body, we are comforted she will remain with us in thought and memory. We are blessed God allowed her life to touch ours and know we are better for it. Shirley was preceded in death by her mother (Addie Kelley), her father (Elbert McCullough), three brothers (Verlee, Clarence, and Douglas McCullough), one sister (Gloria Jean Jordan), and one granddog (Poncho). To celebrate the memory of her life, she leaves her husband of almost 57 years, Kenneth Gordon, Sr. of Willingboro, NJ; two daughters - Von Gordon and Gaylene Gordon, both of Willingboro, NJ; one son, Kenneth Gordon, Jr. (wife Leslie and granddog Cinco) of Birmingham, AL; three granddaughters – Valeree Gordon of Beverly, NJ; VeNeis Gordon of Pemberton, NJ; and Cidnee Gordon of Greenville, NC; one grandson, Kenneth Gordon III of Greenville, NC; and one great granddaughter, Khaliyah Harris of Fayetteville, NC. She also leaves three sisters – Verna Stayton, Ella Adams, and Erma Maupins, and one sister-in-law, Bobbi McCullough, all of Kansas City, KS; two brothers, Richard Allen of Fort Worth, TX and Lee McCullough (and wife April) of Little Rock, AR, and a host of relatives, spiritual brothers and sisters, and lifelong friends.
To send flowers to the family or plant a tree in memory of Rev Dr. Shirley Gordon, please visit Tribute Store
Service
10:00 am
Wednesday, June 16, 2021
Healing Wings Pentecostal Temple, C.O.G.I.C.
520 E Stanger Ave
Glassboro, New Jersey, United States
856-442-0405
Interment
1:30 pm - 2:00 pm
Wednesday, June 16, 2021
Lakeview Memorial Park
Rt. 130 N
Cinnaminson, New Jersey, United States
856-662-8570